O-rings: types and uses
O-rings vary in dimension, section and material. Depending on the type of sealing (static or dynamic), the type of fluid and the required working temperature, one type of seal or another must be selected. The terrible accident of the
space shuttle

Challenger

in 1986 demonstrated the importance of proper O-ring selection and installation. The complete disintegration of the spacecraft was due to the failure of an O-ring in the right solid rocket booster.
O-ring dimensions are determined by inside diameter and section diameter (thickness) or section shape.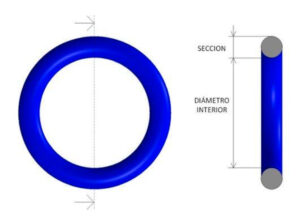 It is essential that the gasket material be compatible with the working temperature demanded and with the chemical aggressiveness of the fluid. In addition, it must meet the hardness required by the application. For this reason, there are numerous materials, among which the following can be distinguished:
NBR (nitrile rubber). It is the most standardized material used in O-rings. Withstands temperatures between -30 ⁰C and 100 ºC.
HNBR (hydrogenated nitrile rubber). These seals withstand the punishment of cooling fluids well and work optimally between -50 ºC and 140 ºC.
XNBR (carboxylated nitrile rubber). These seals offer higher tear and abrasion resistance than NBR and are particularly suitable for dynamic applications.
FPM-FKM (fluorinated rubber). Also known as "Viton" gaskets (due to the widespread commercial name), this type of gasket has a high chemical resistance and withstands temperatures up to 200 ºC.
FFKM (perfluoroelastomer). It is the elastomer plastic that provides the best chemical resistance. It can withstand temperatures of 320 ºC.
EPDM (ethylene-propylene-diene rubber). This material is used for seals for hydraulic fluid installations, brake fluids, water vapors, etc. It is effective in temperature conditions that can vary from -50 ºC to 140 ºC.
VMQ Silicone. It is used in steam, hot air or aromatic hydrocarbon circuits. They withstand up to 200 ºC.
One of the most frequently replaced O-rings on a vehicle is the engine oil filter gasket. Wrong selection of the type of gasket that does not withstand the specific temperature or pressure, or faulty installation
faulty installation
can lead to a serious failure of one of the most important components of the car.
TRELLEBORG O-RING CATALOG