CABLE PROTECT is a special regreasing agent that effectively protects metallic cables against the effects of weathering and wear, thus increasing the service life of the cable.
Motorex CABLE PROTECT special cable lubricant also effectively protects various types of metallic cables against the effects of weathering and wear. The product is diluted with a special solvent at the factory, which allows for easy and uniform application. Once the solvent has evaporated, a thin protective film forms, which is very adhesive but not sticky. Repeated bending and tensioning of the cable causes wear between the many individual wires of which it is composed.
CABLE PROTECT is useful to mitigate especially this type of wear. The product fully protects the cable against the extreme effects of weathering, such as sun, rain, snow, heat and cold. This prevents failures in many systems, such as cables for cable cars that are used on a daily basis.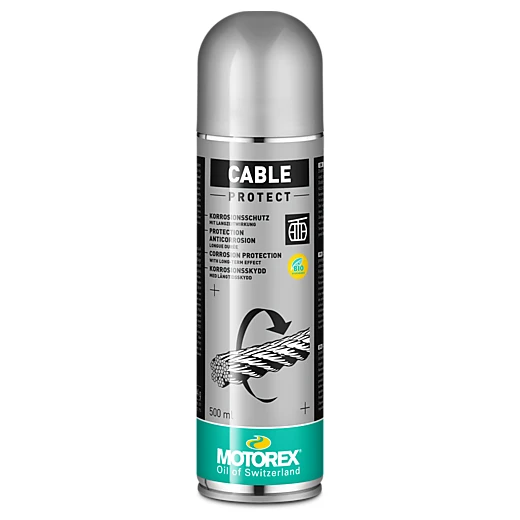 Improved cable durability
In addition, the spray is pre-diluted, so it is very easy to apply and the joint can be re-treated regularly. As this particular part of the cable is under such heavy stress, it is important to repeat lubrication on a regular basis. This repeated lubrication can have a positive impact on the service life of wire ropes.
CABLE PROTECT is used in cables for cable cars, ski lifts and material transport tracks. This product has proven to be particularly effective on stays and cranes, as well as on bollards and winches for spare wire ropes.