Industrial seals and sealing rings are often used interchangeably, as they perform similar functions in preventing leakage in applications. However, there are some key differences between the two terms that many users are unaware of. Since both seals and oil seals have enormous applications in various industrial equipment and machinery, it is essential to understand their main differences, as well as their most important types. Therefore, In this article we present the main types of seals and sealing rings for industrial applications.
What are gaskets?
Seals are typically molded or machined products used in more active environments, such as engine parts, pumps and shafts, among others. They are designed in flat and round configurations to prevent intrusion of particles and contaminants into the systems. Manufactured with quality materials such as Buna 'N' (Nitrile), CSR (Hypalon®), EPDM, Flourosilicone, Neoprene, Polyurethane, Silicone and Viton®, industrial seals optimize the performance of different machines.
Maintaining the shelf life of industrial gaskets can be complicated because most of the time, industrial users buy gaskets in bulk and store them for later use. In case of improper storage, it will drastically affect performance and shelf life when intended for downstream applications.
The most common seals and sealing rings used in various industrial applications are:
Stem seals: Able to withstand high pressure peaks, stem seals prevent hydraulic fluid leakage out of the sealing system. They are available as single-acting and double-acting seals and work best in linear and reciprocating applications and are one of the crucial elements in fluid transmission systems.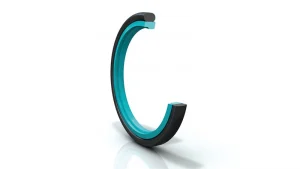 Piston seals: Piston seals, both single and double acting, prevent hydraulic fluid or air leakage in industrial machinery, hydraulic and pneumatic cylinders and valves. Designed to provide maximum leakage control, piston seals are used in extreme operating conditions.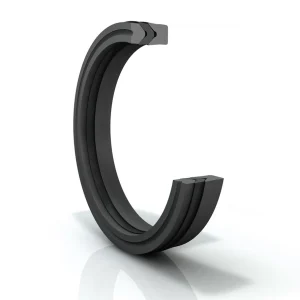 U-Cups : As the name implies, these gaskets are available in different U-Cup configurations. Designed for dynamic and static applications, they offer optimum sealing performance in pneumatic cylinders, public works and construction machinery, and pneumatic and hydraulic drive equipment of all types.
Cassette seals: Offered in various designs, from single lip seals to multiple lip cartridge versions, cassette seals prevent water and dirt ingress while retaining lubricants. Thanks to their outstanding wear resistance, they can be used in demanding rotating situations, such as ships, water pumps and tidal turbines, pumps or gearboxes, hydraulic pumps, industrial and automotive shafts.

Radial shaft seals:

Radial shaft seals are rotary shaft seals that close the gap between a stationary and a moving part to exclude dust, dirt, water or other contaminants. This type of seals is widely used in gearboxes, pumps, gas and aeronautical turbines and compressors, pistons, pipe connections and hydraulic cylinders.

Ring gaskets:

These are high integrity sealing solutions designed to create a tight and effective seal on raised or flat face flanges. Available in oval and octagonal configurations, these seals are suitable for high pressure and high temperature applications.
Boiler gaskets:

Manufactured from high quality raw materials that meet international quality standards, these gaskets contribute greatly to system performance, uptime and safety. Boiler gaskets are specifically designed to seal steam pressure vessels, hot water heaters, steam humidifiers and water towers, among others.
Tadpole gaskets:

Designed to provide high temperature heat sealing, Tadpole gaskets are known for their ease of integration into gaskets and component joints. Made of 304 stainless steel, Inconel®, fiberglass (Tetraglas®), silica, basalt and ceramics, they are the most suitable for small laboratory furnaces, large industrial boilers and kilns.
Integral gaskets:

Typically designed for use on flat-faced flanges, these gaskets help seal and protect two separate pipe flanges. They cover the entire flange face and prevent dirt from entering the gaskets.
Despite the industrial seals and gaskets mentioned above, there are many more varieties of sealing products available on the market. Each has its own specific design, features and uses. Therefore, selecting the most suitable one is of great importance and partnering with a leading and experienced manufacturer is the best way to get the most suitable product.
At Seauto we offer unmatched knowledge of seals and gaskets, being a leader in the industry by offering different types of seals manufactured with the highest quality for virtually any application where we will help you improve the capacity, durability and performance of your equipment.