Originally developed in the 1960s, Trelleborg Sealing Solutions ' Forsheda® V-ring has long been the standard sealing solution in rotating applications subject to heavy contamination, successfully preventing the ingress of external media and retaining lubricants. Widely used in sectors such as agriculture, mining, transportation, heavy machinery, renewable energies and industry in general, the one-piece elastomer seal continues to prove its longevity thanks to its easy adaptation to the new challenges of rotating applications.
Effective in the most hostile environments
The Forsheda® V-ring is an economical and versatile solution for rotating systems that offers excellent sealing capability. Its main strength lies in its effectiveness in hostile environments, where it is crucial to prevent the entry of external contaminants and ensure the retention of lubricants and anti-corrosion agents. This seal provides an ideal solution that can accommodate shaft misalignments, ensuring long-lasting and effective performance.
Whether in agriculture or aerospace, reliable sealing is critical to optimize maintenance and replacement cycles of rotating applications. Our dynamic product testing and comparisons with alternative products demonstrate that the wide range of sizes, profiles and materials of Forsheda® V-Rings provide unsurpassed reliability and minimize total cost of ownership for our customers.
Our test criteria include friction, temperature and wear measurements compared to a typical contact surface, as well as ozone resistance under various stretching conditions. Compared to other gasketing materials on the market, the Forsheda® trapezoidal gasket shows superior performance.
The Forsheda® V-ring seals directly against opposing surfaces, such as bearings, even at rotational speeds of up to 12 meters per second, with axial and radial support. It features a cut lip that ensures sealing against the external inlet and internal outlet, allowing the seal hinge to flex and maintain contact even at high rotational speeds.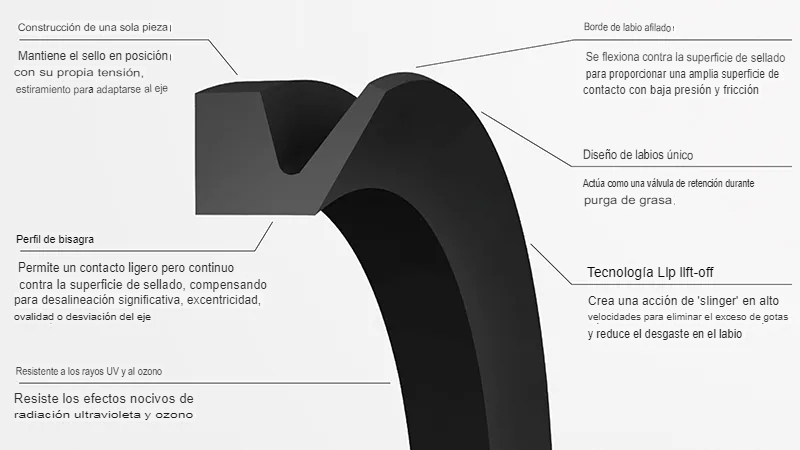 We offer the Forsheda® V-ring in a wide variety of materials, including nitrile rubber (NBR), fluoroelastomer (FKM), ethylene propylene diene monomer (EPDM), ethylene acrylic rubber (AEM), hydrogenated nitrile butadiene rubber (HNBR) and vinyl methyl silicone (VMQ), in sizes up to 50 centimeters and larger, suitable for applications such as wind turbines, furnaces and rotating mills.
Our Forsheda® V-joints are manufactured using compression and injection molding processes, ensuring high consistency and quality. We offer standard sizes as well as customizable profiles. Assembly is simple, either by vulcanization kits, gluing or clamping bands for larger sizes. The Forsheda® V-joint can be used alone or in combination with another primary seal.